1er octobre 2012 : adoption de Dream of eternity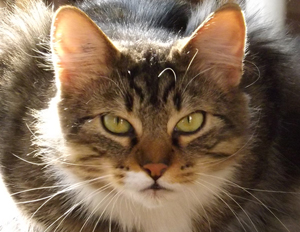 Une dame est passée au refuge, souhaitant adopter un chat d'appartement. Elle avait une petite liste : Emeralde, Viva la vida, et Dream of eternity. En la voyant, et malgré sa timidité, qui ne lui faisait pas peur, elle a craqué sur sa beauté. Elle est revenue vendredi pour voir si le courant passait également entre Dream et son petit ami Ils se sont décidés pour elle. Cependant, ayant prévu de partir en week-end, nous lui avons déconseillé d'adopter la minette de suite.
Elle est donc revenue ce lundi pour adopter DREAM OF ETERNITY.
Merci.
---
Le 03 février 2013, nous avons eu le plaisir de recevoir les premières nouvelles et photos de la belle Dream of eternity :
"Bonjour mesdames,
Un petit mail pour vous donner quelques nouvelles de Dream of Eternity pour qui j 'avais complètement craqué !
Elle s'appelle à présent Minuit :-)
Je l'ai adoptée début octobre 2012 et je suis très heureuse de l'avoir.
Elle ne se laissait pas approcher à la SPA et maintenant elle est très câline et n'a plus peur de personne.
En effet, elle a mis une petite semaine seulement pour ne plus avoir peur de mon compagnons et moi-même.
Elle est chasseuse, joueuse et a un très bon caractère.
Elle n'aime pas être portée, ne monte jamais sur le canapé (c'est pratique) et dort avec nous au pied du lit. Bref la chatte idéale !
Elle a pris un peu de poids, elle pèse déjà plus de 5 kilos ;-)
Je vous joins quelques photos d'elle au moment où on l'a eu et maintenant.
Cordialement.
Annabelle"