22 septembre 2012 : adoption de Fly to the moon, grâce au site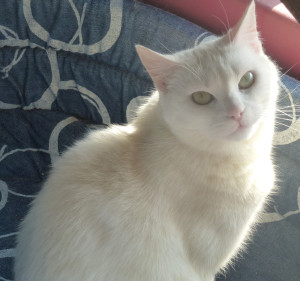 Au refuge depuis bientôt un an (elle est arrivée en octobre 2011), Fly to the moon est une belle minette au pelage blanc, qui n'a pourtant jamais attiré personne.
N'appréciant pas trop la présence des autres chats, elle a attrapé la teigne fin d'année dernière, et a eu du mal à guérir. C'est pour cette raison que Fly est partie en famille d'accueil, afin de lui permettre d'être plus sereine, et de pouvoir se débarrasser enfin de la teigne (simple maladie de peau, non mortelle, mais contagieuse et contraignante quant à son traitement).
Une fois guérie, sa FA a préféré la garder encore quelques temps, pour lui éviter un retour au refuge, et lui trouver directement une famille bien à elle.
Et ce moment est enfin arrivé ! Un monsieur, ayant l'habitude de vivre avec des chats (et n'en ayant plus !), avait souhaité adopter un chat dans un refuge, pour lui offrir une nouvelle chance. Privilégiant plutôt l'adoption d'un chat adulte, qui ont souvent moins de chance d'être adoptés rapidement que les chatons, il a visité notre site, et a eu un gros coup de coeur pour Fly to the moon en découvrant son portrait.
Contact a été pris rapidement avec la famille d'accueil pour voir Fly, et une fois sur place, le coup de coeur pour cette belle minette s'est confirmé, c'était elle !
FLY TO THE MOON a donc rejoint sa nouvelle maison ce samedi 22 septembre. Un peu perdue au début face à tous ces changements, l'intégration devrait toutefois se faire sans problème, avec douceur et patience. Et nul doute que dans quelques temps, elle sera tout à fait à l'aise dans sa nouvelle famille !
Elle vivra dans une grande maison, avec pour terrain de jeux un grand jardin où elle pourra gambader à son aise, quand elle aura pris ses marques. Elle aura également la compagnie de deux jeunes enfants le week-end.
Merci pour cette belle adoption.
Et merci également à l'adoptant pour l'accueil chaleureux qui a été réservé à la famille d'accueil de Fly. Nous attendons maintenant les premières nouvelles de la puce avec impatience !
---
Le 29 janvier 2013, nous avons eu des nouvelles accompagnées de photos :
"[...]J'en profite pour te donner des nouvelles de ta protégée... mais, si, la chatte blanche qui miaule en faisant "quiqwick".
Elle est adorable et son point faible ... la bouffe, la bouffe et surtout la bouffe. Il faut que je fasse attention car je lui mets une gamelle de croquettes le matin, et le soir il n'y a plus rien donc j'ai tendance à re-remplir le soir. A moins que ce soit le fait de sortir qui lui donne faim. J'ai testé la croûte de fromage à raclette (pas de trop, juste quelques morceaux) et ben, elle en raffole.
Sinon, Mademoiselle est très futée ! je lui avais mis des légumes ... qu'elle a boudés. Du coup, j'ai mis cette gamelle dehors pour un jeune chat errant qui passe derrière la maison. Et bien, dans les heures qui ont suivies ... elle mangeait dehors cette gamelle, style "je partage pas ce terrain avec d'autres".
Mademoiselle sort désormais toute seule et revient aussi (ça c'est bien). Les seuls jeux qui l'intéressent sont les plumes : elle a commencé une collection autour de sa gamelle, en piquant celles que les enfants ramassent et ramènent de leurs promenades en forêt. Elle se promène dans la maison de temps en temps avec une plume dans la bouche. Ah, elle m'a fait aussi plein de cadeaux ... au moins, 4 souris.
Elle préfère boire dans le pot d'un papyrus que dans son propre abreuvoir.
Elle est restée une semaine seule (mais sous surveillance d'une voisine) pendant que j'allais skier .... quand je suis rentré, elle m'attendait à la porte. Et là !! "tournée générale de pâtée".
En clair, tout se passe bien pour elle et moi ;) . Souvent elle a besoin de son espace privé. Si tu regardes la télé, elle ne viendra pas sur tes genoux pour se faire caresser mais quand elle veux des caresses, elle le fait savoir ... et bien sûr je m'exécute. Elle vient me chercher le soir (dans la maison, pas au boulot, c'est trop loin) pour son rituel "il me faut des caresses avant de dormir" et en plus il faut que les caresses se passent sur son coussin et pas ailleurs.
Pour résumer "Moon" en plusieurs mots : quiqwick (son p'tit cri), des plumes, des croquettes, le bazar dans la litière, sortir mais pas trop longtemps et plein de caresses (des fois c'est limite "pot de colle" ;) )."