03 mars 2012 : adoption de Yee-Yee, sans le site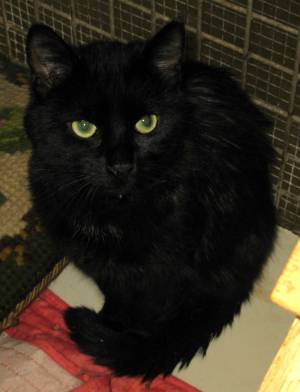 Un monsieur avait pris rendez-vous pour adopter, avec sa fille, un chat pouvant vivre en appartement.
Nous les avons d'abord emmenés en quarantaine, où la jeune fille a craqué sur la beauté et la gentillesse d'Igor. Puis, ils ont souhaité voir les chats en chatterie également.
Plusieurs chats leur ont plu : Bonbonne, très câline, Cheyenne, puis Vicking et Versace, Max, qui s'est laissé caresser malgré sa timidité. Mais le gros craquage a été sur Fly to the moon et Yee-Yee, l'une toute blanche et l'autre toute noire !
Ils ont longuement hésité entre les deux, mais finalement, leur choix s'est porté sur Yee-Yee, l'autre minette ayant plutôt besoin de sorties. Les câlins et ronrons de Yee-Yee dans les bras de la jeune fille l'ont confortée dans son choix !
Elle vivra donc en appartement, comme seule minette à bord.
Merci.